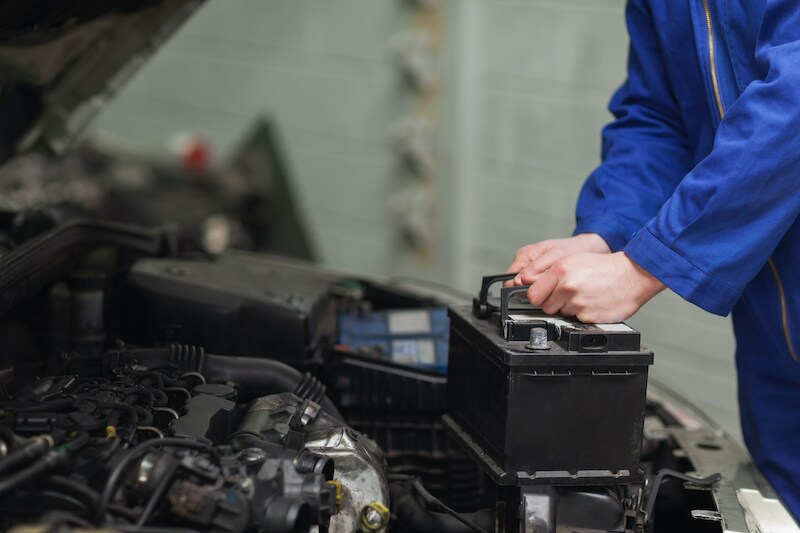 Battery Service | Battery Service In Totowa NJ
Your car battery is an essential part of your vehicle because you would have no engine, no power, and no lights without it. This would mean all the electrical elements to your car, such as interior and exterior lights, power seats, windows, and radio, would not function at maximum capacity. Your car battery needs to be replaced every four years, even if it isn't causing you any problems. Call today or conveniently schedule an appointment online for your next battery service here at Route 46 Mitsubishi! 
Signs It May Be Time To Change Your Battery
It's important to recognize the most common signs that occur when your battery may need to be replaced. If the answer is "yes" to any of the following questions regarding your battery please bring your vehicle to Route 46 Mitsubishi for battery service:
Does your car have any trouble starting?

Do your headlights appear to be less bright than normal?

Has your battery warranty period expired?

Have any warning lights come on?

Have you had to use a portable charger to recharge your battery lately?

Do the lights dim when the A/C or heat is on?

Are your electric windows operating slower than normal?

Has your vehicle had alternator or belt problems recently?

Is there visible corrosion on the battery posts or cables?

Are there any unusual smells coming from your battery area?
Our trained technicians will make sure that your battery is in good working order, whether it needs to be replaced, and that your vehicle is functioning at its top performance.
Schedule Your Battery Service Today!
We understand that the world's current state is a little chaotic with COVID, but here at Route 46 Mitsubishi, we take every precaution to ensure our staff and customers stay healthy. We offer new services to make customers feel more comfortable when dealing with our service department. We now provide after-hour key drops if you don't want to deal with our staff directly. After we provide service to your vehicle, we make sure to sanitize the interior to have a peace of mind when driving next!
Our team at Route 46 Mitsubishi understands that a car battery can die on you at an inconvenient time. Prepare for that by
scheduling an appointment
and visiting us in Totowa, NJ, for all your battery service needs. If you need urgent service, get in touch with our team at (855) 889-8156 to see what we can do to provide you with the fastest resolution to this issue as soon as possible.
We look forward to servicing your vehicle! 
Service Reviews
"Route 46 Mitsubishi helped me tremendously today. With a difficult circumstance they were able to get me on the road today and I appreciate it so much!" -Aniyah, DealerRater.com
Hours
Monday

9am - 8pm

Tuesday

9am - 8pm

Wednesday

9am - 8pm

Thursday

9am - 8pm

Friday

9am - 8pm

Saturday

9am - 8pm

Sunday

Closed