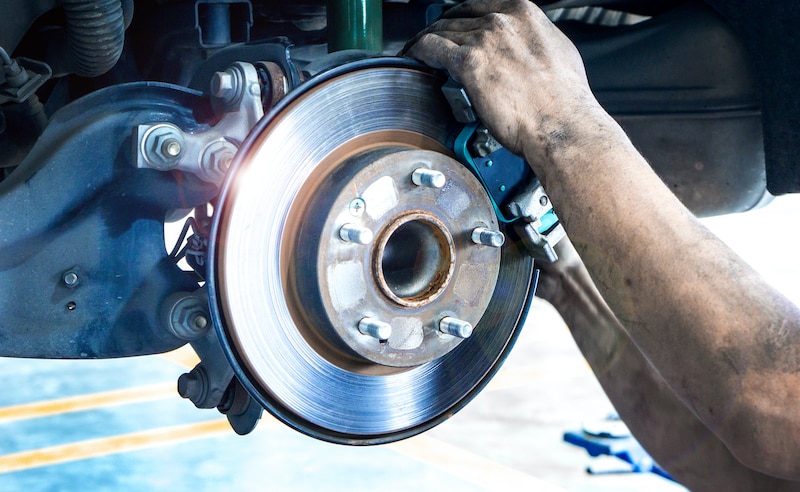 Brake Service | Brake Service In Totowa NJ
Discovering that your Mitsubishi vehicle needs a service trip is not something that is taken lightly. When searching for a Mitsubishi brake service near Totowa, NJ, stop in at Route 46 Mitsubishi. Our skilled technicians are ready to take care of all your vehicles needs. Call today at (855) 889-8156 or schedule an appointment directly online at your earliest convenience!
Signs It May Be Time To Service Your Brakes
Listed below are some of the most common signs that your brakes require attention, so don't hesitate to reach out to our team at Route 46 Mitsubishi when these present themselves or when you
notice that it is time to replace your brake system entirely.
Hearing a grinding noise or squealing when pressing the breaks

Your brakes seem spongy, are slow to respond, or require you to press them down to the floor

 An unusual smell arises after applying the brakes, usually a burning smell

 Vibrations or pulsing is felt in the steering wheel or pedal when braking

 A warning light appears on your vehicle's dashboard indicating brake service is needed
If you drive your vehicle with worn brake pads and brake rotors, the following problems may occur:
 Metal-to-metal contact between brake pads and rotors may result in costly repairs.

The brake system will not function properly and can result in a severe accident
Schedule Your Battery Service Today!
We understand that the world's current state is a little chaotic with COVID, but here at Route 46 Mitsubishi, we take every precaution to ensure our staff and customers stay healthy. We offer new services to make customers feel more comfortable when dealing with our service department. We now provide after-hour essential drops if you don't want to deal with our staff directly. After we provide service to your vehicle, we make sure to sanitize the interior to have a peace of mind when driving next! Do not hesitate to reach out to us when you realize your brakes need to be serviced because our certified technicians are ready to help you. 
Contact us at Route 46 Mitsubishi today or easily set up an appointment online at a time that works best for you. If this an urgent service, get in touch with our team to see what we can do to provide you with the fastest resolution possible. We look forward to servicing your vehicle!
Service Reviews
"Attentive and pleasant, gave me great recommendations for the future service of my vehicle!! Speedy service, will definitely return for future services. Thank you very much." -Sand, DealerRater.com
Hours
Monday

9am - 8pm

Tuesday

9am - 8pm

Wednesday

9am - 8pm

Thursday

9am - 8pm

Friday

9am - 8pm

Saturday

9am - 8pm

Sunday

Closed
Schedule Service
* Indicates a required field